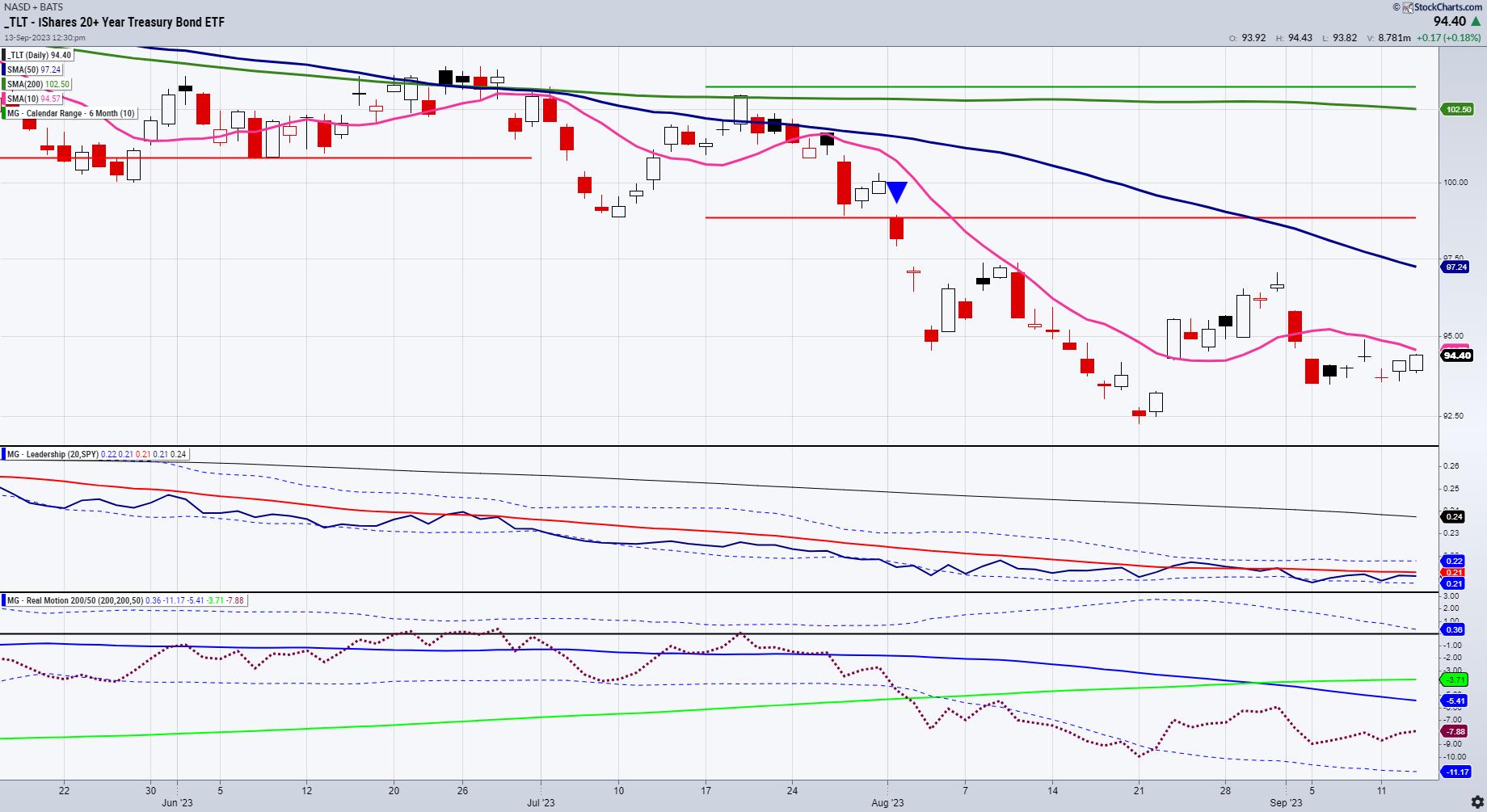 I doubt any of our readers are too surprised by the CPI reading coming in a bit hotter than expected.
The bulk of it was in energy costs. Food costs were, mixed with bread and meat, up, while eggs and milk were down. Services inflation was up slightly, while shelter costs were down slightly. All in all, without some black swan event, we can begin to look for normalization of interest rates to core inflation.
Most economists and analysts believe that the federal-funds effective rate target will hold steady at its current range of 5.25% to 5.50% With core inflation close to the current fed funds rate, many economists are talking about a normalization, or a point where the rates are high enough to control inflation. If that is true, it seems to us that the public will have to switch the mindset from rate cuts to rate pause at around 5%, as this is more in line with a healthier economy.
As long as the S&P 500 outperforms long bonds (TLT), risk is on.
Was there damage from the rapid rise in rates? Sure. Nonetheless, we do not want rates much lower — nor do we want them higher. What we want is a long duration at the current levels of inflation and interest rates, with no surprises.
Of course, that is the rub. No surprise means wage inflation and strikes, geopolitics, BRICS, mother nature, trade wars and so on all must behave. This is why we are monitoring the TLTs so carefully, especially as they perform against the benchmark.
Our Leadership indicator shows TLT still underperforming the SPY. Our Real Motion indicator shows a mean reversion in momentum that happened in late to mid-August. Interestingly, it corresponded with a bottom in the TLT, which, to date, is holding up. The momentum phase is bearish along with price.
We want to see the momentum and price flatline, neither spiking higher nor going lower from here.
On price, the July 6-month calendar range low is well overhead at 98.80. Ideally, to see a good rally in the indices, we want that normalization. But we don't always get what we want, right?
Maybe the Fed has…
And maybe this is the calm before the storm.
---
This is for educational purposes only. Trading comes with risk.
For more detailed trading information about our blended models, tools and trader education courses, contact Rob Quinn, our Chief Strategy Consultant, to learn more.
If you find it difficult to execute the MarketGauge strategies or would like to explore how we can do it for you, please email Ben Scheibe at Benny@MGAMLLC.com.

"I grew my money tree and so can you!" – Mish Schneider
Get your copy of Plant Your Money Tree: A Guide to Growing Your Wealth and a special bonus here.
Follow Mish on Twitter @marketminute for stock picks and more. Follow Mish on Instagram (mishschneider) for daily morning videos. To see updated media clips, click here.
---
Mish discusses AAPL in the wake of the iPhone 15 announcement on Business First AM.
Mish explains how to follow the numbers in oil, gas, gold, indices, and the dollar daytrading the CPI in this video from CMC Markets.
Mish talks commodities, and how growth could fall while raw materials could run after CPI, in this appearance on BNN Bloomberg.
In this appearance on Fox Business' Making Money with Charles Payne, Mish and Charles discuss the normalization of rates and the benefit, plus stocks/ETFs to buy.
Mish chats about sugar, geopolitics, social unrest and inflation in this video from CNBC Asia.
Mish talks inflation that could lead to recession on Singapore Breakfast Radio.
---
Coming Up:
September 14: Mario Nawfal Twitter Spaces
October 29-31: The Money Show
---
ETF Summary
S&P 500 (SPY): 440 support, 458 resistance.
Russell 2000 (IWM): 185 pivotal, 180 support.
Dow (DIA): 347 pivotal.
Nasdaq (QQQ): 363 support, over 375 looks better.
Regional banks (KRE): 44 pivotal.
Semiconductors (SMH): 150-161 range to watch.
Transportation (IYT): Needs to get back over 247 to look healthier.
Biotechnology (IBB): Compression between 124-130.
Retail (XRT): 62.90, the July calendar range low, broke down, along with IYT — 2 negative signs and an indication of stress on the consumer.
Mish Schneider
MarketGauge.com
Director of Trading Research and Education