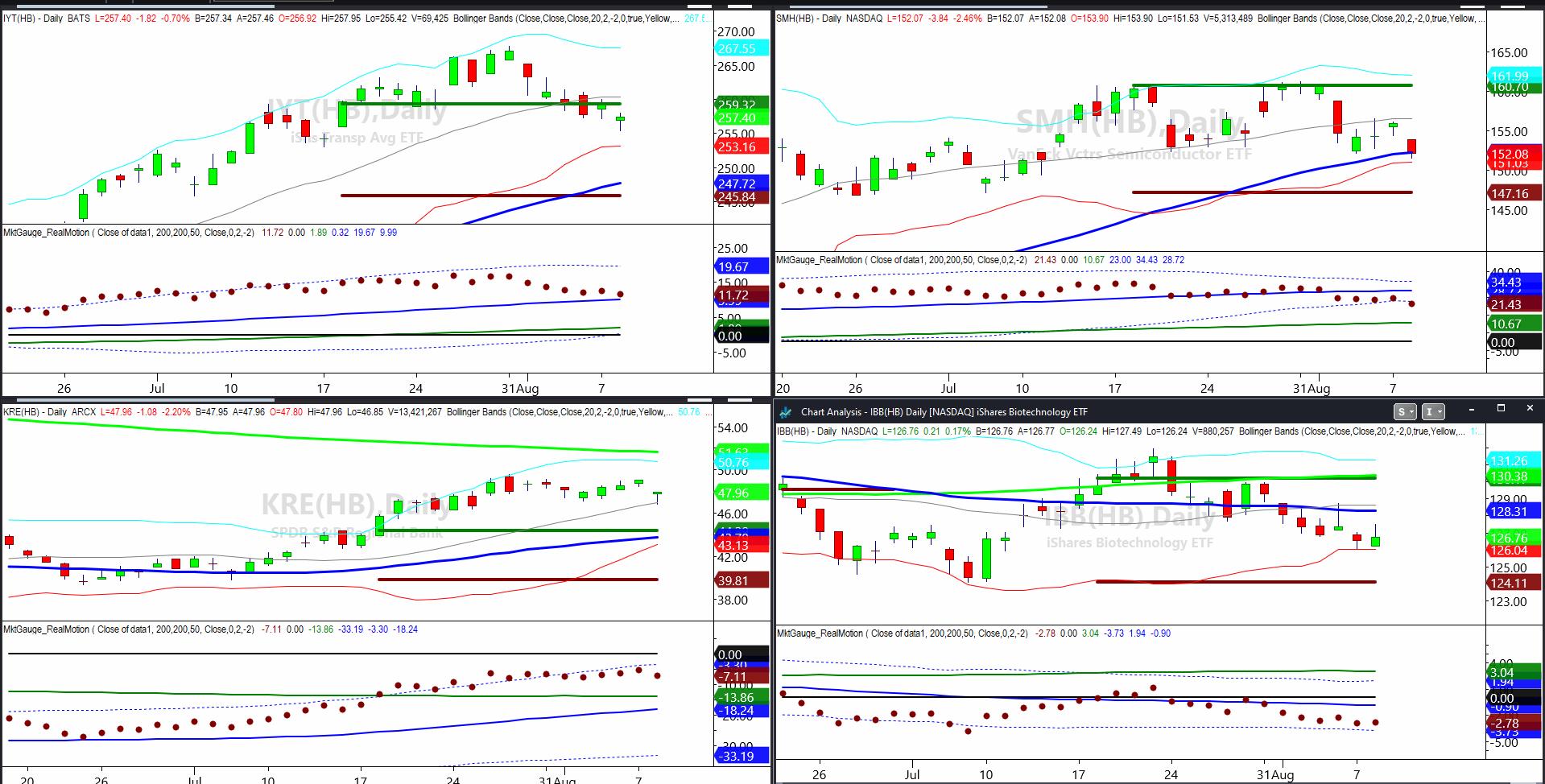 Today, we're continuing to look at the reset of the July 6-month calendar ranges in 4 of the Economic Modern Family Sectors. To remind you, the range is good until the next time it resets in January 2024. 
Beginning with Transportation (IYT), as of last Friday, it has begun to slip below the green horizontal line, or 6-month calendar range high (CRH). However, IYT is in a bullish phase, far from its 50-DMA t 248.
Momentum, as measured by our Real Motion indicator, has a slight bearish momentum diversion with momentum on its 50-DMA. The 6-month calendar range low is 245.84. With IYT's topping candle late July, a move to test the CRL would be about a 10% correction.
Moving on to Semiconductors (SMH), this was even worse than the QQQs. SMH never cleared its 6-month CRH and has retreated with today's move testing the 50-DMA. Momentum broke the Bollinger band. If SMH is to hold, the low 151.50 up to the 50-DMA at 152.30 should hold, and we will look for a potential mean reversion.
If SMH cannot hold these levels, the 6-month CRL is at 147.00. Under there, expect a much deeper correction. Thus far, a 5-10% correction, considering how frothy the levels were becoming, is expected and normal. Plus, all our risk factors continue to point to risk on.
Regional Banks (KRE) hit the news today with Moody's downgrade on a few banks. KRE CLEARED its 6-month CRH and, even with today's downgrade, consolidates at higher levels. That makes 44.40 the key support. Plus, although the momentum is declining, that price retook 48.00 during today's action can be considered healthy. Perhaps this was a "buy the downgrade" news scenario.
As for Biotechnology (IBB), momentum is back on the upswing. With the price is under both the 50-DMA and the 6-month CRH, we see potential here for a move higher. The levels are clear — 128.30 for a phase change to recuperation, then a move over the 6-month CRH or 130.36, and we would be looking more closely at that sector.
We find it fascinating that the ONLY sector in the economic modern family above the July range is Regional Banks. Is that relaxing or frightening?
---
For more detailed trading information about our blended models, tools and trader education courses, contact Rob Quinn, our Chief Strategy Consultant, to learn more.
If you find it difficult to execute the MarketGauge strategies or would like to explore how we can do it for you, please email Ben Scheibe at Benny@MGAMLLC.com.

"I grew my money tree and so can you!" – Mish Schneider
Get your copy of Plant Your Money Tree: A Guide to Growing Your Wealth and a special bonus here.
Follow Mish on Twitter @marketminute for stock picks and more. Follow Mish on Instagram (mishschneider) for daily morning videos. To see updated media clips, click here.
---
In this appearance on Fox Business' Making Money with Charles Payne, Mish and Charles cover Fed, oil and gas, and some picks for a manufacturing boom.
Mish and Nicole Petallides discuss market in correction, oil concerns, and some new picks on TD Ameritrade.
Mish runs the rule over the S&P 500 and key commodities in this video from CMC Markets.
Mish gives reasons why gold could return as a safe haven on Business First AM.
Mish talks about opportunities related to EVs in this video from Business First AM.
Mish and Jared go over oil and what might happen with small caps and regional banks in this appearance on Yahoo! Finance.
This has been a very heavy week with the Fed meeting, tons of earnings, and, not to mention, all of the geopolitical issues around the world. Something that Mish has been thinking a lot about is store houses for raw materials, the places that actually hold every kind of raw material from mining, commodity trading houses etc. Mish dives into the stocks she's looking at on the Wednesday, July 26 edition of StockCharts TV's Your Daily Five.
Mish looks at a selection of popular instruments and outlines their possible direction of travel in this video from CMC Markets.
In this episode of The Breakfast Show from Money FM 89.3 Singapore, Mish makes sense of the recent resilience and worrisome trends in the market, delving on the various factors driving consumer confidence in the face of rising rates and inflation, the impact of A.I.-driven companies, and the ongoing geopolitical risks on commodities and equities.
Mish talks PCE inflation picks in this video from Business First AM.
---
Coming Up:
August 9, 10: Mario Nawfal Financial Spaces, 8am ET
August 10: Benzinga Morning Prep Show & The Final Bar on StockCharts TV
August 28: Chuck Jaffe, Money Show
September 7: Singapore Breakfast Radio, 89.3 FM
October 29-31: The Money Show
---
ETF Summary
S&P 500 (SPY): 450 pivotal, 440 support at the 50-DMA.
Russell 2000 (IWM): 191 is the 23-month holy grail; 194 July 6-month range high.
Dow (DIA): 35,000 support.
Nasdaq (QQQ): 362-382 range.
Regional Banks (KRE): 50 in focus if holds 48.
Semiconductors (SMH): 161 resistance, 150 in focus.
Transportation (IYT): July 6-month calendar range high at 259.30.
Biotechnology (IBB): Compression between 123-130.
Retail (XRT): 66-67.40 short-term range (closing levels matter).
Mish Schneider
MarketGauge.com
Director of Trading Research and Education