Cisco (CSCO) is showing leadership qualities again as it breaks out of a classic bullish continuation pattern and hits a new high.
The chart below shows CSCO forming a cup-with-handle pattern, which was popularized by William O'Neil of IBD. This is a bullish continuation pattern, which means the prior move was up. Indeed, CSCO advanced from the upper 30s in October to the lower 50s in early April (+35%).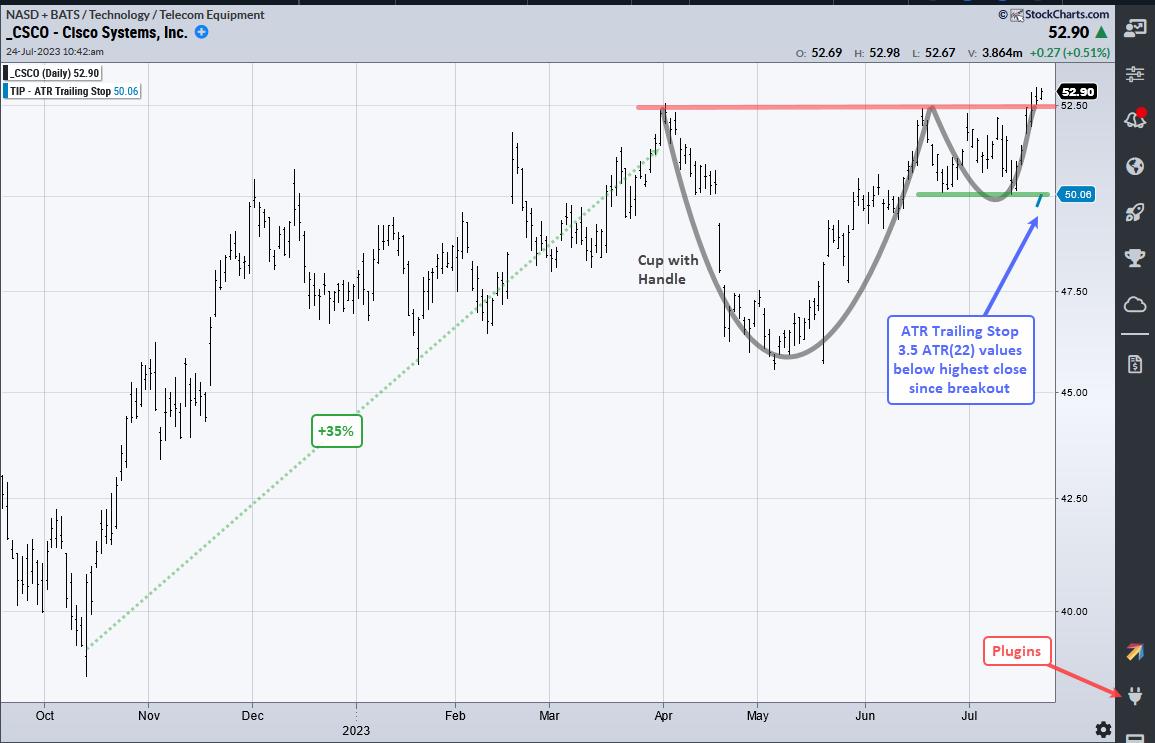 The stock hit resistance in the 52.5 area from April to July (red line). Between these resistance points, the stock dipped into April-May and formed the cup portion of the pattern. The handle formed from mid June to mid July and the stock broke rim resistance with a surge the last few days.
Overall, the cup-with-handle pattern represents a consolidation or rest within a bigger uptrend. The breakout signals an end to this consolidation and a resumption of the bigger uptrend. The lows in mid-June and mid-July mark the first support level (green line).
The short blue line on the right shows the ATR Trailing Stop for reference. 3.5 is the ATR multiplier and this value affects the distance from price. I chose this value so the stop would start just below the mid-June and mid-July lows (support). The stop will rise if prices continue to rise.  
TrendInvestorPro is currently running two quantified strategies. First, we have a momentum-rotation strategy trading S&P 500 and Nasdaq 100 stocks. Second, we have a short-term mean-reversion strategy trading Russell 1000 stocks. These strategies are outlined with detailed reports and performance metrics. Click here for immediate access.  
The ATR Trailing Stop, Trend Composite, Momentum Composite and eight other indicators are part of the TrendInvestorPro Indicator Edge Plugin for StockCharts ACP. Click here to take your analysis process to the next level.
—————————————