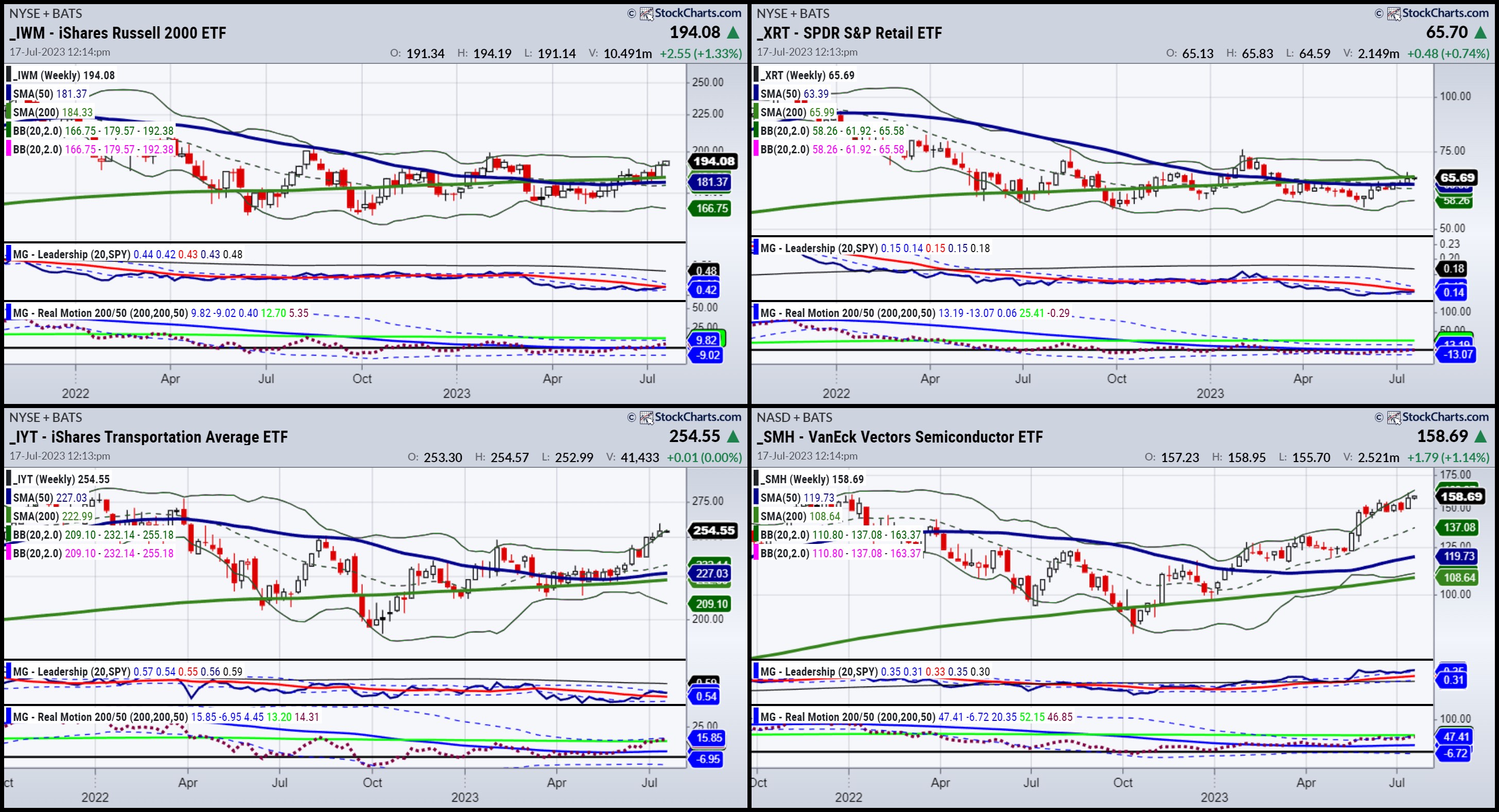 This will be the only Daily for this week. (A new one will be available July 24th.)
As such, two key areas are in focus, both reliable in determining next moves in the market. First, we have the charts of the Economic Modern Family (Russell 2000, Retail, Transportation, Biotech, Semiconductors, Regional Banks–we will leave Bitcoin out for now). Secondly, we have the re-set of the 6-month July calendar range. If we put both together, you will see how well aligned the price charts and the calendar range indicators are. 
Of course, the rates, dollar, earnings, gold, oil, food, climate are all factors as well. However, we want to leave you with a blueprint that is simple and can help you navigate where to put your money right now.
The first 4 charts are all in a weekly timeframe, as per our book Plant Your Money Tree. The Russell 200 IWM is in an Accumulation Phase. The Leadership is on par with the benchmark. Real motion momentum is in a bearish divergence.
Verdict-Monday's high will be the top of the calendar range. A move over 195 would be hard to argue with. A break under 190 would be suspect.
Retail (XRT) is in a Distribution phase and has to clear the 200-WMA and calendar range high at 67.42. A move under 63.40 would be weak. XRT is underperforming SPY and has a bearish divergence in momentum.
Transportation (IYT) is in a bullish phase. Last week, it made its July Calendar range high. IYT has outperformed SPY, and momentum is weak compared to price. 245 is the key area to hold.
Semiconductors (SMH) has its July range high at 160.70. In a bullish phase, SMH has outperformed SPY since April. Momentum in Real Motion is in a bearish divergence to price. 147 is the 6-month calendar range low. A move below would not be healthy.
All four of these Family members are looking a bit tired in momentum.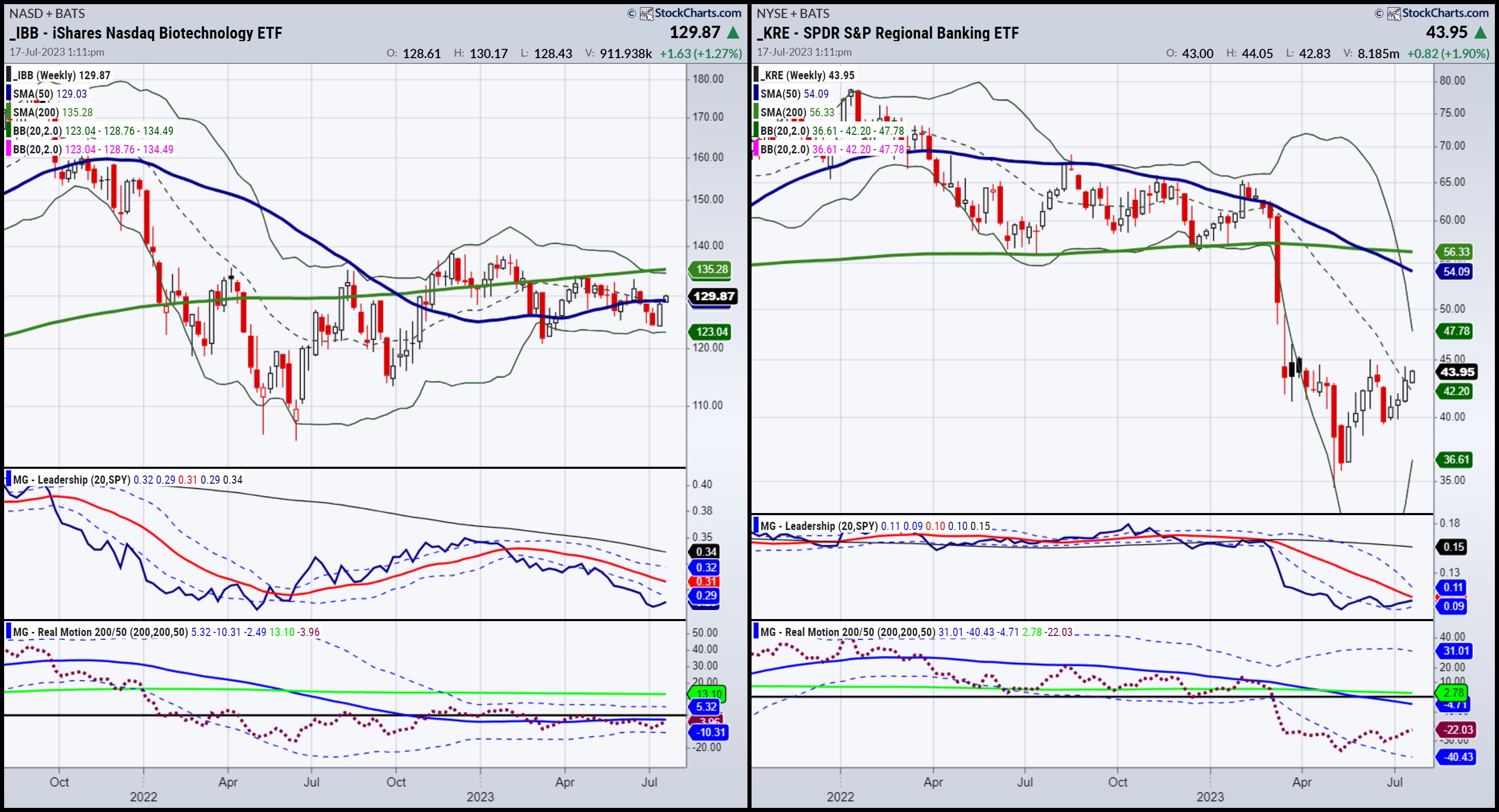 Biotechnology (IBB) is the second-weakest Family member, behind Regional Banks.
Just piercing the 50-WMA for an unconfirmed phase change to Recuperation, IBB has to clear 130 and then the 200-WMA at 135.30. It's not surprising to see it well underperforming the SPY. Momentum in Real Motion has yet to catch up to the recent price action. The calendar range high, interestingly, is just over 130 or Monday's high. We have eyes on this sector.
Regional Banks (KRE) are in a weekly bearish phase. A move over 45 would help and could also potentially give KRE a boost in leadership against the SPY. Momentum had a mean reversion back in mid-May. Nevertheless, the trip to the overhead 50 and 200-WMAs is far, yet perhaps not impossible.
As mentioned earlier, the rates (FED on tap), dollar, earnings, gold, oil, food, and climate are all factors. However, the most successful traders use the simplest formulas. Weekly charts, phase, leadership, momentum, and the July 6-month calendar ranges should give you a statistical edge in this pivotal time.
Have a great week!
---
For more detailed trading information about our blended models, tools and trader education courses, contact Rob Quinn, our Chief Strategy Consultant, to learn more.

"I grew my money tree and so can you!" – Mish Schneider
Get your copy of Plant Your Money Tree: A Guide to Growing Your Wealth and a special bonus here.
Follow Mish on Twitter @marketminute for stock picks and more. Follow Mish on Instagram (mishschneider) for daily morning videos. To see updated media clips, click here.
---
Mish talks her approach to being a professional trader in this Options Insight interview with Imran Lakha.
Nicole Petallides and Mish discuss crypto, basic materials, inflation and gold in this appearance on TD Ameritrade.
Mish and Ash Bennington cover a lot in this video from Real Vision, discussing everything from the Fed, to inflation, to the incredible move in stocks and what is next.
Mish talks day-trading tactics, currency pairs, gold, oil, and sugar futures in this video from CMC Markets.
Mish and Angie Miles talk tech, small caps and one new stock in this appearance on Business First AM.
Mish examines the old adage "Don't Fight the Fed" in this interview on Business First AM.
Mish and Charles Payne talk the Fed, CPI, Inflation, yields, bonds and sectors she likes on Fox Business' Making Money with Charles Payne.
Mish, Brad Smith and Diane King Hall discuss and project on topics like earnings, inflation, yield curve and market direction in this appearance on Yahoo Finance.
---
Coming Up:
July 18-19: Business First AM
July 21: BNN Bloomberg
---
ETF Summary
S&P 500 (SPY): 450 pivotal area, 455 resistance, 437 July low.
Russell 2000 (IWM): 193 is the 23-month holy grail.
Dow (DIA): 34,000 pivotal.
Nasdaq (QQQ): Trouble if breaks 363.
Regional Banks (KRE): 42.00-44.00 range.
Semiconductors (SMH): 150-160 range.
Transportation (IYT): Under 250 some trouble.
Biotechnology (IBB): 121-130 range.
Mish Schneider
MarketGauge.com
Director of Trading Research and Education